- outline -
Scan KASUMI-DEMPA(means Wireless LAN wave) around you, and show stat with graphic.
Show the count and details of found KASUMI-DEMPA, and even connect it now !

- english -
no english document included, but english localed.

- customize -
You can customize application with select (or make) Theme File.
3 Theme Files default included. More files, get from here.

- require -
Developped and checked on MacOS X v10.3 (Panther).
Not work on MacOS X v10.2.8 (Jaguar).
Not tested on intel.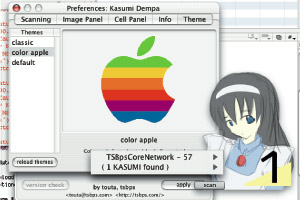 ScreenShot is like this.
More screen shot , see Japanese page.